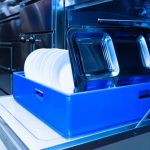 Running a restaurant or catering business involves a multitude of responsibilities, from managing staff to ensuring the quality of food and service. In this fast-paced environment, having a functional and efficient commercial dishwasher is crucial to keep up with the demand for clean and sanitized dishes. However, like any other piece of machinery, commercial dishwashers can encounter problems that disrupt operations. In this blog post, we will discuss the common issues faced by commercial dishwashers and offer practical troubleshooting tips for restaurant and catering business owners.
1. Low Water Temperature
One common problem faced by commercial dishwashers is a low water temperature. This issue can result in poor cleaning performance and unhygienic dishes. To troubleshoot this problem:
– Check the water heater thermostat settings and ensure they are set to the appropriate temperature (around 140°F or 60°C).
– Verify that there are no blockages in the water supply lines or filters that may impede the flow of hot water.
– Call a professional technician if the issue persists, as it may indicate a faulty water heater or heating element.
2. Inadequate Cleaning Power
If you find that your dishes are not coming out as clean as desired or are still covered in residue, inadequate cleaning power may be the culprit. You can take the following troubleshooting steps:
– Inspect the spray arms and ensure they are not clogged or obstructed. Clean them thoroughly if necessary.
– Verify that the water pressure and flow rate are sufficient. Low water pressure may prevent the dishwasher from effectively removing food particles.
– Use the appropriate dishwasher detergent and ensure it is properly dispensed. Adjust the detergent dispenser settings if needed, following the manufacturer's instructions.
3. Leaking Water
Leaking water is a common and frustrating issue in commercial dishwashers. Not only does it waste water and energy, but it can also create a slip hazard in the kitchen. Here's what you can do to troubleshoot water leaks:
– Inspect the door gasket for any signs of damage or deterioration. Replace the gasket if necessary, as this is a common cause of leaks.
– Examine the spray arms and their connection points to ensure they are securely attached and not causing any leaks.
– Check all pipes and connections for any signs of leakage or looseness. Tighten or replace them as needed.
– If the issue persists, contact a professional technician to inspect and repair any faulty valves or pumps.
4. Poor Drainage
If your dishwasher is not draining properly, it can result in dirty water pooling at the bottom, leading to unhygienic conditions and a foul odor. To troubleshoot poor drainage:
– Check the drain hose for any clogs or kinks. Clear any obstructions and ensure the hose is properly connected and positioned for efficient drainage.
– Examine the drain pump and filters for any debris or blockages. Clean them thoroughly if necessary.
– Ensure that the drain pump is functioning correctly and that there are no signs of damage. Replace the pump if needed.
5. Excessive Noise and Vibrations
Excessive noise and vibrations can disrupt the tranquility of your kitchen and may indicate an underlying issue with your dishwasher. Follow these troubleshooting tips to address this problem:
– Verify that the dishwasher is properly leveled. Adjust the feet to ensure the unit is stable and balanced, reducing vibrations.
– Inspect the spray arms for any loose or damaged parts. Tighten or replace them as necessary.
– Check the drive belt and motor for any signs of wear or misalignment. Call a professional technician if you suspect any major issues.
Conclusion
Commercial dishwashers, like any other equipment, can face common issues that impact their performance. By understanding these problems and implementing practical troubleshooting tips, restaurant and catering business owners can minimize downtime and maintain an efficient dishwashing process. However, if the issues persist or require technical expertise, it is always advisable to seek professional help to ensure the longevity and reliability of your commercial dishwasher.
Got Questions? Let Us Help!
Since 1984, Commercial Equipment Service Inc. has been providing service and sales of commercial/restaurant cooling, refrigeration and heating equipment to Wilmington, Delaware and the surrounding area. We are a locally owned business with over 42 years of experience. Our friendly staff prides itself on our professional attitude and service. Commercial Equipment Service Inc. is a 24/7 on-call service for your appliance needs! We install and repair all refrigeration and cooking equipment, heating and air conditioning, emergency generator sales, kitchen exhaust systems, beverage systems and so much more. Contact us today to learn more about what we can do for you!