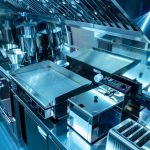 In the bustling world of the restaurant industry, a well-maintained kitchen is essential for success. Restaurant equipment, from ovens and stovetops to refrigerators and dishwashers, are the lifeblood of your operation. When these essential pieces of equipment break down, it can disrupt your business, tarnish your reputation, and cost you valuable time and money. In this blog post, we will discuss the importance of timely restaurant equipment repairs and how they play a crucial role in keeping your kitchen running smoothly.
Minimizing Downtime
One of the most significant impacts of equipment breakdowns in a restaurant is the downtime it causes. When a critical piece of equipment fails, it can bring your kitchen to a standstill. For example, a malfunctioning oven or stove can halt food production, causing delays in serving customers. The longer the downtime, the more frustrated your patrons may become, potentially leading to lost revenue and customer dissatisfaction.
Timely restaurant equipment repairs are essential to minimize downtime. When you promptly address issues, you can get your equipment up and running again quickly, ensuring that your kitchen operates smoothly and efficiently.
Consistency in Food Quality
Consistency is key in the restaurant business. Your customers expect the same high-quality food and dining experience every time they visit. When your equipment isn't functioning correctly, it can affect the consistency of your dishes.
For instance, if your oven's temperature is off or your refrigerator can't maintain the right temperature, it can result in undercooked or spoiled food. Inconsistent food quality not only frustrates customers but can damage your restaurant's reputation. Timely repairs help you maintain the consistent quality that keeps your patrons coming back.
Preventing Safety Hazards
Restaurant kitchens can be high-stress environments, with multiple employees working closely together. Malfunctioning equipment can pose safety hazards for your staff. For example, a gas leak from a malfunctioning stovetop or an electrical issue in your dishwasher can lead to dangerous situations, including fires or electrocutions.
Timely restaurant equipment repairs are essential to prevent safety hazards. Regular maintenance and quick repairs ensure that your equipment operates safely, protecting your employees and the well-being of your customers.
Avoiding Costly Replacements
Replacing restaurant equipment is a significant expense. Timely repairs can help you avoid the need for costly replacements. When you address issues promptly, you can extend the lifespan of your equipment and get the most out of your initial investment.
Regular maintenance, inspections, and immediate repairs when problems arise are cost-effective measures that can save your restaurant from the financial burden of replacing expensive kitchen equipment.
Compliance with Health Regulations
Adhering to health and safety regulations is a non-negotiable aspect of running a restaurant. Faulty equipment can lead to violations of health codes, which can result in penalties, fines, or even closure of your establishment. For instance, a malfunctioning refrigerator may not maintain proper temperatures, leading to food spoilage and potential health hazards.
Timely repairs help ensure that your equipment remains in compliance with health regulations. This not only protects your restaurant from legal issues but also safeguards the health of your customers.
Maintaining Efficiency
Efficiency is crucial in a restaurant kitchen. When equipment breaks down, it can disrupt the workflow and slow down food preparation. As a result, your kitchen staff may have to work harder and longer to meet customer demands.
Timely repairs are essential for maintaining kitchen efficiency. With fully functional equipment, your staff can work more efficiently, meet customer orders promptly, and reduce the risk of overworked and stressed employees.
Enhanced Long-Term Reliability
Neglecting minor issues or postponing repairs can lead to more significant problems down the road. What might start as a small malfunction could escalate into a costly breakdown if not addressed promptly.
Timely restaurant equipment repairs help maintain long-term reliability. By fixing minor issues before they become major problems, you can extend the life of your equipment and reduce the risk of unexpected, expensive failures.
Improved Cost Management
By prioritizing timely restaurant equipment repairs, you can better manage your budget. Planned repairs and maintenance are more cost-effective than emergency replacements or addressing issues after they've caused extensive damage. Budgeting for maintenance and repairs as part of your operational expenses is a proactive approach to cost management that helps keep your kitchen running smoothly without sudden financial setbacks.
Summary
In the high-pressure world of restaurant management, keeping your kitchen running smoothly is essential for success. Timely restaurant equipment repairs play a crucial role in minimizing downtime, ensuring consistent food quality, preventing safety hazards, avoiding costly replacements, complying with health regulations, maintaining efficiency, enhancing long-term reliability, and improving cost management. By investing in prompt repairs and regular maintenance, you can safeguard your restaurant's reputation, customer satisfaction, and financial well-being. Prioritizing the health and efficiency of your kitchen equipment is an investment in the long-term success of your restaurant.
Need Commercial Appliance Repair in Wilmington, DE?
Since 1984, Commercial Equipment Service Inc. has been providing service and sales of commercial/restaurant cooling, refrigeration and heating equipment to Wilmington, Delaware and the surrounding area. We are a locally owned business with over 42 years of experience. Our friendly staff prides itself on our professional attitude and service. Commercial Equipment Service Inc. is a 24/7 on-call service for your appliance needs! We install and repair all refrigeration and cooking equipment, heating and air conditioning, emergency generator sales, kitchen exhaust systems, beverage systems and so much more. Contact us today to learn more about what we can do for you!