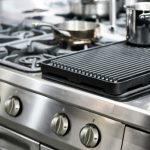 When it comes to running a successful restaurant or bakery, consistent baking and cooking results are crucial. Your customers expect top-notch food every time they visit, and a major factor in achieving this is properly maintaining your commercial ovens. Regular maintenance not only extends the lifespan of your equipment but also ensures that your ovens are functioning at their best, delivering consistent and delicious results. Here are some valuable tips to help you maintain your commercial ovens for optimal baking outcomes.
1. Clean and Degrease Regularly
Regular cleaning and degreasing of your commercial ovens should be a top priority. Built-up grease and food residue not only affect the taste and quality of your baked goods but can also be a fire hazard. Make sure to remove any loose food particles from the oven interior, racks, and trays after each use. Utilize a non-abrasive cleaner to thoroughly clean the oven walls and door, and remember to pay attention to any crevices or hard-to-reach areas. Regular cleaning prevents the buildup of grease and ensures your oven operates efficiently.
2. Check, Replace, and Maintain Gaskets
The gaskets on your commercial oven create a seal between the oven door and the unit, preventing heat loss and ensuring consistent temperature control. Over time, gaskets can become worn or damaged, compromising their effectiveness. Regularly inspect the gaskets for signs of wear, such as cracks or gaps. If you notice any issues, replace the gaskets promptly to maintain a proper seal. Additionally, clean the gaskets regularly to remove any debris or food particles that may interfere with their functionality.
3. Calibrate Thermostats
Accurate temperature control is vital for consistent baking results. Over time, the thermostat in your commercial oven may become misaligned, resulting in inaccurate temperature readings. To ensure optimal performance, it's essential to calibrate the thermostats regularly. Use an oven thermometer to verify the oven's actual temperature against the displayed temperature. If there is a discrepancy, consult the manufacturer's instructions or a professional technician for guidance on recalibrating the thermostat.
4. Inspect and Clean Heating Elements
Heating elements play a vital role in achieving even heat distribution throughout your oven. Regularly inspect the elements for any signs of damage, such as cracks or discoloration. Clean them regularly using a soft brush to remove any accumulated debris or residue that may affect their performance. Be cautious when cleaning around the elements, taking care not to damage them or dislodge them from their proper positions.
5. Check and Clean Ventilation System
Proper ventilation is essential for maintaining an optimal baking environment. Over time, dust, grease, and other particles can accumulate in the ventilation system, hindering proper airflow. Regularly inspect and clean the ventilation system to remove any debris or blockages. Depending on the type of system, this may involve removing and cleaning filters, wiping down vents, or hiring a professional to clean and service the system thoroughly. Adequate airflow ensures that your commercial oven operates efficiently and helps prevent overheating.
6. Schedule Routine Professional Maintenance
While regular cleaning and inspections are essential, scheduling routine professional maintenance is equally important. Professional technicians have the expertise to identify and address potential issues before they become major problems. Consider establishing a maintenance contract with a reputable service provider who can perform routine checks, tune-ups, and repairs as needed. These professionals can also provide guidance and recommendations specific to your commercial oven model, ensuring it remains in optimal condition for consistent baking and cooking results.
7. Train Staff on Proper Oven Use and Care
Lastly, proper training for your staff on using and caring for commercial ovens is crucial for consistent baking results. Provide thorough instructions on operating the ovens, including temperature control, timer usage, and basic troubleshooting. Emphasize the importance of proper cleaning and maintenance routines and ensure your staff follows them diligently. Regularly communicate with your team about the importance of oven maintenance and provide ongoing training to keep them informed about best practices and any updates or changes in procedures.
Conclusion
Maintaining your commercial ovens is vital for achieving consistent baking and cooking results in restaurants and bakeries. By following these tips, including regular cleaning, gasket maintenance, thermostat calibration, heating element inspection, ventilation system checks, professional maintenance scheduling, and staff training, you can ensure that your ovens operate efficiently and deliver delicious results every time. Devoting time and effort to maintain your commercial ovens not only enhances the overall operations of your establishment but also helps you meet and exceed customer expectations, ultimately contributing to your business's success.
Got Questions? Let Us Help!
Since 1984, Commercial Equipment Service Inc. has been providing service and sales of commercial/restaurant cooling, refrigeration and heating equipment to Wilmington, Delaware and the surrounding area. We are a locally owned business with over 42 years of experience. Our friendly staff prides itself on our professional attitude and service. Commercial Equipment Service Inc. is a 24/7 on-call service for your appliance needs! We install and repair all refrigeration and cooking equipment, heating and air conditioning, emergency generator sales, kitchen exhaust systems, beverage systems and so much more. Contact us today to learn more about what we can do for you!